04/16/0001. Space Age
It's been a busy few years for CoinPayments since opening in 2013 as the first payment processor to support altcoins. CoinPayments has rapidly expanded to support over 250 digital currencies today, and are constantly adding more. CoinPayments provides vendors with easy to use plugins, APIs and point of sale interfaces for any merchants looking to accept cryptocurrency payments. As their userbase grew, CoinPayments added many new features to their platform, including digital currency conversions, fiat settlement options and full-service packages for companies looking to launch their ICO. Over the past 4 years, CoinPayments has grown to over 750,000 accounts in 182 countries!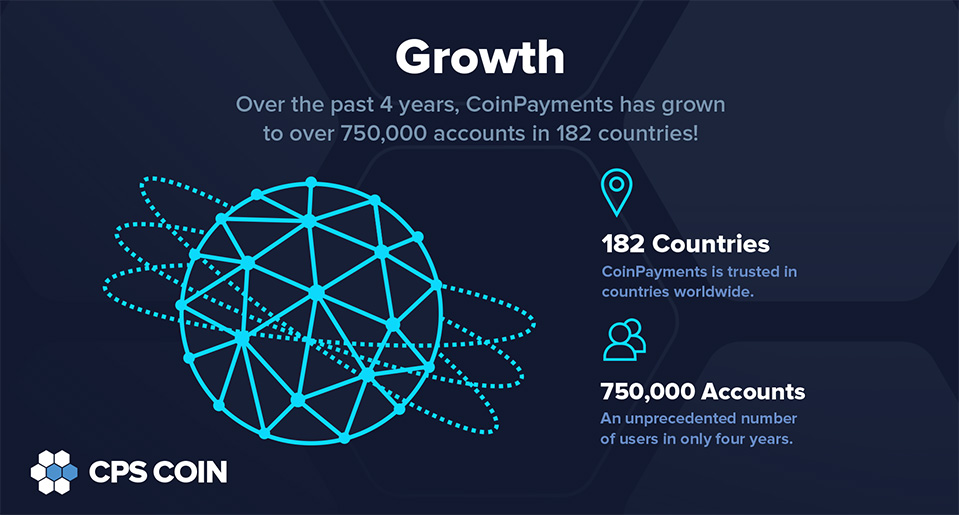 CPS Live Ltd, in partnership with CoinPayments and Syscoin, is taking the enormous success achieved in payment processing and blockchain technology and applying it to a new venture: CPS Coin. The CPS coin will be the first digital asset built on the Syscoin platform and will bring numerous benefits and rewards to CoinPayments users and merchants, and will also coincide with the launch of a decentralized marketplace allowing users to transact with each other directly, without the middle man.
First Syscoin Asset
With CPS Coin being the first asset built on the Syscoin platform, it will benefit from many of the features already developed by Syscoin including instant transactions, near zero network transaction fees and masternode capabilities.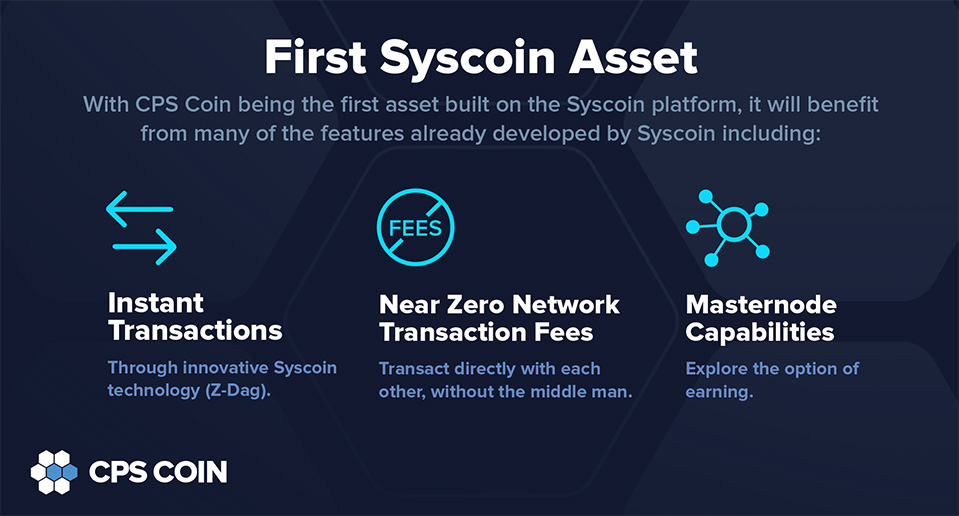 CPS Coin
The launch of CPS Coin will bring many exclusive benefits to CoinPayments accounts including:
Instant Transactions: Transacting with CPS Coin will offer instant transaction confirmations through innovative Syscoin technology (Z-Dag)
Discounted CoinPayments Fees: 50% off merchant processing fees and 50% off conversion fees when exchanging between CPS Coin and other supported currencies
Rewards Program: Earn monthly rewards by staking your CPS Coins
ICO Hosting Benefits: Stake your CPS Coin during your ICO escrow period to earn rewards
Coin Hosting Discount: 50% discount on CoinPayments coin hosting and renewal fees when paying with CPS Coin
Decentralized Marketplace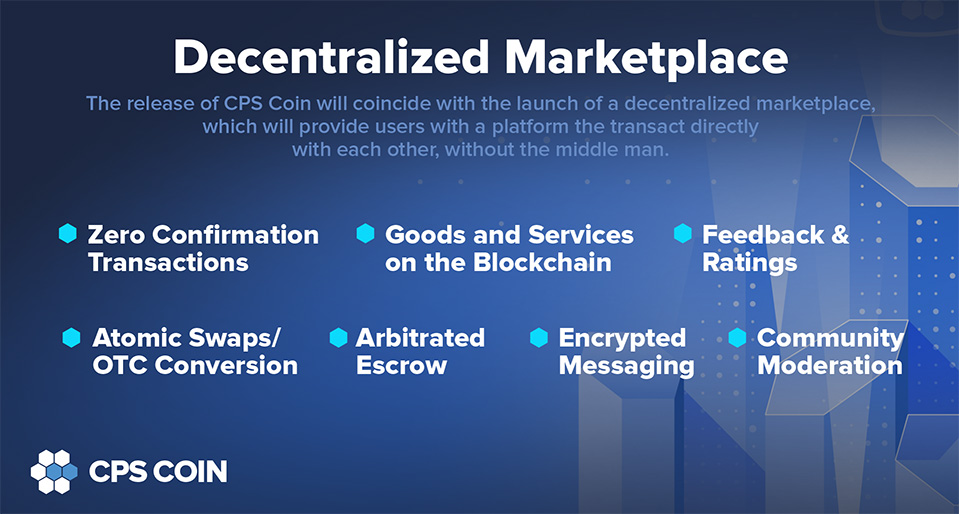 The release of CPS Coin will coincide with the launch of a decentralized marketplace, which will provide users with a platform the transact directly with each other, without the middle man. The CoinPayments community of merchants and users will jump start the usage of the decentralized marketplace from day one. Some of the many features that will be built into the decentralized marketplace will include:
Zero Confirmation Transactions: Instant confirmations when transacting with CPS Coin, ideal for point of sale purchases
Goods and Services on the Blockchain: Buying, selling, auctions, drop shipping and affiliate sales – all directly peer to peer and tracked on the blockchain
Feedback and Ratings: Give customers confidence with past customer feedback. Existing CoinPayments merchants can import their feedback
Atomic Swaps/OTC Conversion: Convert between currencies with ease or buy/sell currency through the OTC desk
Arbitrated Escrow: Inspire buyer confidence by using the arbitrated escrow service to secure funds
Encrypted Messaging: Send and receive encrypted messages within a simple and secure inbox
Community Moderation: To prevent another Silk Road, CoinPayments will moderate the marketplace in the beginning, eventually shifting to a decentralized autonomous governance model built on marketplace reputation.
Through the free airdrop programs, everyone has the opportunity to obtain Free CPS Coins by either starting a CoinPayments account, or storing Syscoin in their alias wallet. The success of CPS Coin and its innovative new approach to payments is guaranteed for 3 simple reasons:
1 CoinPayments Team: The project will be executed by a proven team that helped build CoinPayments to the success it is today.
2 Day One Community: Combining the free airdrops to Syscoin, Changelly and CoinPayments users creates a huge community of over 4 million people using CPS Coin from day one.
3 CPS Coin Advisors: The team of all-star advisors for CPS Coin include many CEOs and founders from all aspects of the crypto industry.
To get some CPS Coin for yourself, all you need to do is have a CoinPayments account or a Syscoin alias.
For more information visit www.CoinPaymentsCoin.com